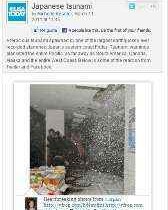 NOTICIAS
7 reportajes sobre tsunami en Japón usando Storify
Actualizado el 27 de noviembre del 2019
Storify es una estupenda herramienta que te permite crear fácilmente historias sobre los últimos acontecimientos en el mundo, usando para ello los recursos disponibles en las redes sociales.
Fotos, tweets, vídeos y más. Todo integrado con los textos y comentarios del creador para presentar una historia original y dinámica.
Esta herramienta ya ha sido usada antes para narrar acontenimientos como las recientes revoluciones en Egipto y Túnez, procesos de elecciones en algunos países y ahora para contar la tragedia del terremoto y tsunami en Japón.
Algunos de los más grandes medios internacionales ya lo usan, como The Washington Post, The Los Angeles Times y Yahoo! News.

Hemos recopilado aquí las 7 mejores historias sobre el tsunami en Japón en las que se usó Storify:
ABC News Australia
Aunque ha sido creada por Xavier Damman, reportero de AP, para facilitar el trabajo de editores y reporteros para que integren los social media a sus informes de forma interactiva, lo puede usar cualquier persona con una historia que contar.