NOTICIAS
Jugar "Cut the rope" en linea
Actualizado el 27 de noviembre del 2019
Cut the Rope o Corta la cuerda en español, es una de las aplicaciones más populares que nacieron para iPhone y luego fueron atrayendo más fanáticos en sus diferentes dispositivos en los que fue presentados, quizá es tan popular cómo el mismo Angry Birds, y es que no podemos negar que más de uno se ha quedado frente a la tablet o smartphone sólo para seguir jugando y dándole de comer a su singular personaje.
Así como las demás grandes aplicaciones, podrás utilizarla en navegadores, tales cómo Internet Explorer y Google Chrome, aunque según los mismos desarrolladores de Microsoft que trabajaron muy duro en este proyecto, desde la última versión de su navegador podrá jugar 25 niveles en total, para esto además tiene que estar anclado a la barra de tareas de tu Windows 7.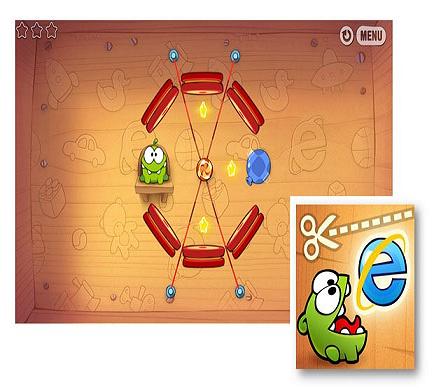 Sin duda esto lo han hecho sólo con el objetivo de ganar algo de publicidad gratis, pero sin duda una muy buena, ya que a los usuarios no les importará tener el navegador en su barra mientras van jugando los 25 niveles.
Hasta ahora este juego ha sido descargado nada más y nada menos que 60 millones de veces en todos los dispositivos que se encuentra, tales cómo el iPhone, iPad, y demás productos que cuentan con Android.
Sin duda Microsoft ha visto en esta popular aplicación la posibilidad de hacer que más de un usuario de Windows 7 se descargue la última versión de su navegador, aunque podemos afirmar que también hemos jugado algunas versiones en Google Chrome, sin necesidad de descargar ni anclar nada a la barra de tareas.
Así que ya sabes, si quieres pasar un buen rato sólo tendrás que entrar a la página de Cut The Rope desde un Internet Explorer 9 o Google Chromre para poder comenzar a jugarlo.