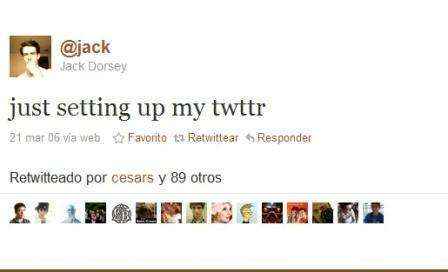 El primer tweet de Twitter en el Libro Guinness de los records . El mensaje "Configurando mi Twitter" que inauguró la popular red de microblogging Twitter, ya forma parte del Libro de Records Guinness 2011, según informó el diario digital La Información.com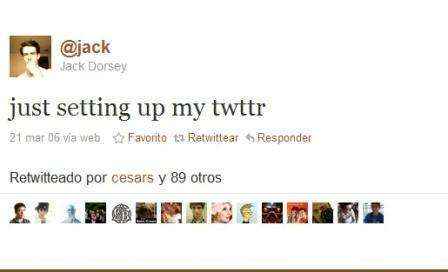 El primer tweet fue realizado el 21 de marzo del 2006 por Jack Dorsey, uno de los creadores de la red de microblogs, quién escribió "just setting up my twttr" traducido al español es "configurando mi Twitter".
Jack Dorsey nació en St. Louis, Missouri, Estados Unidos el 19 de noviembre de 1976. Es empresario, desarrollador estadounidense, co-fundador, presidente actual de la compañía Twitter y CEO del servicio de pago móvil: Square. Estudió en Missouri University of Science and Technology y luego se trasladó a The New York University.
El primer mensaje de Twitter está en los Guinness junto a la cama más cara del mundo con un valor de 440.000 dólares, el taquillazo de Avatar, una piruleta de 2,95 toneladas y las curiosidades con las que ganar un quesito en el trivial o ser el más listo en alguna ocasión.
Si deseas leer más artículos parecidos a Primer tweet de Twitter en el Libro Guinness de los records 2011, te recomendamos que visites nuestra categoría de Noticias.