NOTICIAS
Facebook agrega 12 aplicaciones de medios de comunicación
Actualizado el 27 de noviembre del 2019
La popular red social Facebook sigue apostando por las aplicaciones de línea de tiempo con la Open Graph para hacer más interesante la Biografía de los usuarios y hacer que sea más fácil compartir contenido. Esta vez la compañía de Mark Zuckerberg anunció que se está poniendo en marcha 12 nuevas aplicaciones de la línea de medios de comunicación digital.
Recordemos que Facebook ya contaba con 80 aplicaciones oficiales para su Biografía, si le sumamos las 12 nuevas aplicaciones de medios de comunicación que está agregando a su lista, estaríamos contabilizando 92.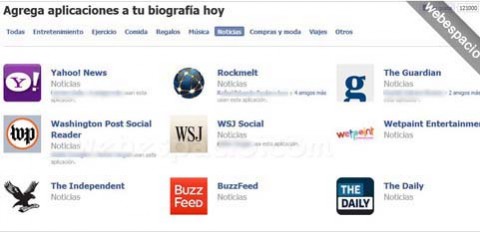 Bueno entre las nuevas aplicaciones encontramos a Buzzfeed, CBS Local: Los Angeles y Nueva York, CMT, The Daily Show, GetGlue, The Huffington Post, Mashable, MSNBC.com, MTV News, Pixable, Sporting News (lanzamiento en marzo) y TODAY Show.
A este nuevo lanzamiento de aplicaciones de la línea de medios de comunicación se unen las aplicaciones existentes como la aplicación The Guardián y The Washington Post, creando así nuevas posibilidades de lectura para los usuarios de la popular red social. Así mismo, tendrán más opciones para descubrir más contenidos, mientras que para los editores será nuevas oportunidades para llegar a nuevas audiencias.
Si deseas instalar las nuevas aplicaciones a tu cuenta social de Facebook, te recomendamos leer el siguiente artículo «Cómo instalar aplicaciones a tu Biografía (Timeline) de Facebook«.
En la web: