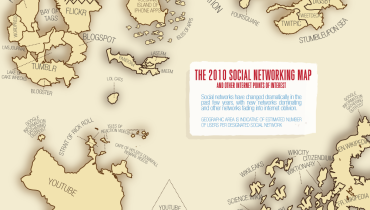 NOTICIAS
Facebook, líder de las redes sociales
Actualizado el 27 de noviembre del 2019
Facebook es la red social más importante del mundo, y lo vemos reflejado en el siguiente mapa creado por Flowtown donde se muestran los datos de las redes sociales que cuentan con mayor número de usuarios.
En el mapa se observa que Facebook tiene la mayor extensión, con sus 500 millones de usuarios encabeza las redes sociales, seguido por Twitter con 114 millones de seguidores.
En el documento se analiza la representación cartográfica de las redes sociales predominantes en internet, donde el «imperio» es conquistado por Facebook, ocupando la extensión más grande de territorio, seguido por Twitter, Bebo, Habbo y My Space; nombrando la región de este último como «Former Kingdom of MySpace.» (Antiguo reino de MySpace).
Por otro lado, esta el mapa dedicado al marketing de las redes sociales, la región destinada a YouTube, propiedad de Google, la cual ocupa una isla, agregando la zona con una nota relacionada con el triángulo de las Bermudas, denominado «Youtube Triangle of Viral Videos,» marcando el dominio impenetrable del sitio de videos más grande.
Con estos datos Facebook es la red social más importante en el mundo y YouTube es el sitio de vídeos más grande del mundo.
Ver el mapa.