NOTICIAS
Facebook prueba "trending articles" en el suministro de noticias
Actualizado el 27 de noviembre del 2019
Facebook está probando una nueva característica para ayudar a los usuarios a descubrir los artículos más populares que se están leyendo desde las aplicaciones sociales de lectura de noticias. La nueva funcionalidad se llama "Trending articles" y ya algunos usuarios lo está viendo en su suministro de noticias.
"Trending articles" es similar a los "trending topic" de Twitter o "Lo más interesante" en Google+, aunque en el caso de Facebook solo se está usando para resaltar los artículos que se leen en las aplicaciones de lectura de noticias que se añaden a la Biografía. Así se ven noticias de las aplicaciones de The Guardian, The Washington Post y The Huffington Post.

Según las capturas de pantalla reportando la aparición de esta nueva característica, los "Trending articles" de Facebook aparecen al inicio del suministro de noticias, mostrándose como un grupo de historias, de entre tres y seis, que incluye título, las imágenes en miniatura y los primeros 130 caracteres de una noticia. Además se ve los nombres de los amigos que lo hayan leído.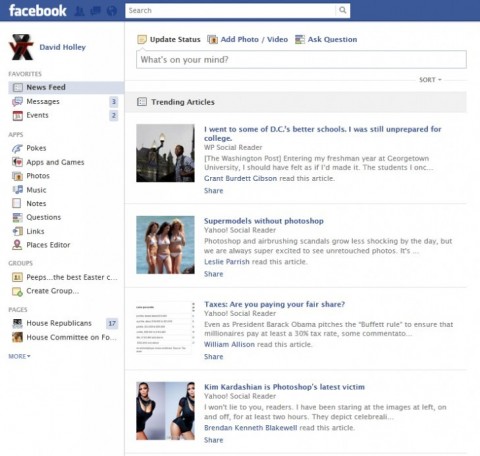 Un portavoz de Facebook ya ha confirmado que la red social está probando "nuevas formas de visualización de estos artículos en el News Feed". Las reacciones, sin embargo, no han sido buenas. La principal queja es sobre el tamaño que ocupa en el suministro de noticias, casi toda la pantalla, que la se percibe como muy intrusiva.
Los "Trending articles" aún están en fase de prueba, así que quizá Facebook todavía puede tomar en cuenta las sugerencia de los usuarios, que preferirían ver esta nueva funcionalidad en una pestaña o sección distinta al suministro de noticias.
En la web:
Inside Facebook
Mashable