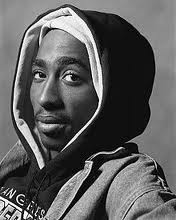 Pablo Rayment, un usuario Foursquare, ha encontrado una forma creativa y útil de usar la popular plataforma de localización móvil. Él ha recurrido a este servicio para trazar la historia de vida de reconocidos raperos, destacando los lugares e hitos emblemáticos en sus trayectorias.
La primera biografía geográfica que ha realizado es la del popular rapero estadounidense Tupac Shakur, marcando en el mapa los lugares que han marcado su vida. Por ejemplo, inicia el recorrido con el Teatro Apolo, en donde el cantante inició sus presentaciones con la obra "A Raisin in the Sun", cuando tenía solo 12 años de edad.
El tour lleva a los usuarios a través de los años, allí conocerá la escuela secundaria de Tupac, el lugar donde firmó su contrato con Death Row Records, y también el lugar del comentadísimo tiroteo en el cual el rapero perdió la vida. Son en total 13 los lugares de ese viaje por los sitios más importantes de su biografía, con una breve reseña en cada parada.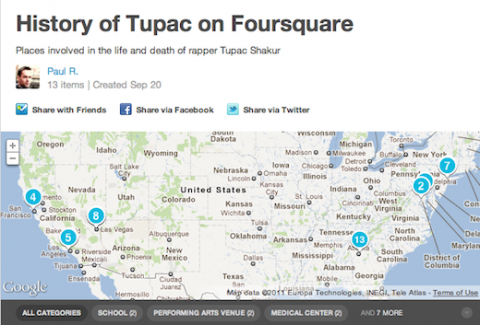 El próximo mapa biográfico estará dedicado a la estrella del rap Jay-Z.
Rayment ha demostrado que se puede usa Foursquare más allá que los típicos check-in para anunciar que se está en un lugar o conocer otros nuevos. Abre un sinfín de posibilidades para usos didácticos en la escuela, en los medios de comunicación y para cualquier persona que se anime a crear sus propios recorridos.
En la web:
La historia de Tupac en Foursquare
The Next Web
Si deseas leer más artículos parecidos a Usan Foursquare para contar la vida de raperos, te recomendamos que visites nuestra categoría de Noticias.