NOTICIAS
Google Doodle interactivo en homenaje al creador del sintetizador Moog
Actualizado el 27 de noviembre del 2019
Google rinde homenaje hoy al inventor del sintetizador electrónico analógico Moog, Bob Moog, con un doodle musical completamente interactivo, que da la oportunidad a los usuarios de tocar su propia música usando todos los ajustes que ofrece el instrumento.
A mediados de la década de los 60, Robert Moog creó el sintetizador que hoy lleva su nombre y que transformó el universo musical con su timbre y tonos. Lo usaron grandes artistas como The Beatles, The Doors, Stevie Wonder, Kraftwerk y muchos otros.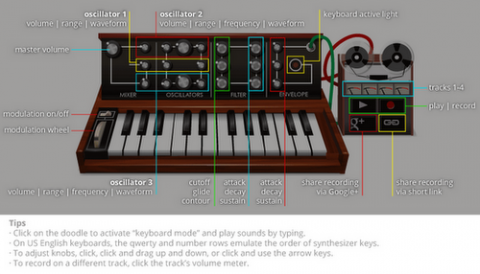 Hoy, más de 50 años después, la industria musical lo siguen apreciando las bondades de este instrumento. En lugar de producir una «síntesis» de sonido, como los sintetizadores anteriores lo hacían, la versión que Moog diseñó producía un sonido más rico y orgánico.
Robert Moog cumple 75 años y Google quiere que todos lo recordemos. Así en la página de inicio del buscador todos podrán encontrar por 24 horas un logotipo interactivo con el que pueden hacer música, inspirado por los instrumentos de Moog. Pueden usar el mouse o el teclado de la computadora para controlar las teclas del mini sintetizador y las perillas para obtener casi un número ilimitado de sonidos.
Además, simulando la tecnología musical de los años 60, los sonidos pueden grabarse y compartirse a través de Google+.
Referencias:
Blog de Google para América Latina