NOTICIAS
Nokia Morph el móvil nanotecnológico
Actualizado el 27 de noviembre del 2019
Nokia Morph, es un conjunto de conceptos de nanotecnología, desarrollado por Nokia Research Center (NRC) y la Universidad de Cambridge (Reino Unido) tiene un diseño elástico y una apariencia futurista el cual denominan «Design and the Elastic Mind» que acaba de ser lanzado en una exposición el cual podrá ser vista desde el 24 de febrero al 12 de mayo de 2008 en El Museo de Arte Moderno (MoMA) de Nueva York.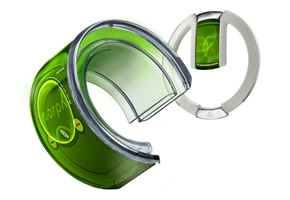 Morph es un concepto que demuestra cómo los futuros dispositivos móviles podrían ser elásticos y flexibles, que permite al usuario transformar su dispositivo móvil en formas radicalmente diferentes. Esto nos demuestra que la funcionalidad de la nanotecnología podría ser capaces de transportar materiales flexibles, tener una superficie transparente y serian capaz de autolimpiarse las superficies. El Dr. Bob Iannucci, Jefe Oficial de Tecnología de Nokia, comentó:
«Nokia Research Center está buscando maneras de reinventar la forma y la función de los dispositivos móviles; el concepto Morph demuestra lo que podría ser posible».
[Más información: Nokia]