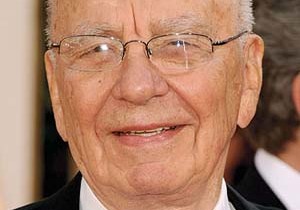 NOTICIAS
Magnate de comunicaciones Rupert Murdoch se une a Twitter
Actualizado el 27 de noviembre del 2019
Te contamos que el presidente y CEO de News the World Rupert Murdoch se unió a la popular red social de microblogging Twitter, estrenando su cuenta social @rupertmurdoch justo a últimas horas del 2011. Desde entonces miles de usuarios de la plataforma social no han dejado de seguirlo, fue tanta la aceptación que para las 8:00pm (horario peninsular en España) del domingo 01 de enero del 2012 ya se contabilizaba 26 000 seguidores.
El empresario de 81 años, que ya llego a los más de 55 000 seguidores en Twitter, publicó mensajes cortos sobre su relación con el escándalo de escuchas telefónicas del dominical News of the World, el paro juvenil, y la biografía de Steve Jobs, que califica de «injusta».
«Feliz 2012. Que sea mejor de lo que predicen todos los expertos. ¡Tiene que serlo! Hay que cambiar todo para crear empleo para todos, especialmente los jóvenes», escribió Murdoch en su primer mensaje del 2012 en su cuenta de Twitter este domingo.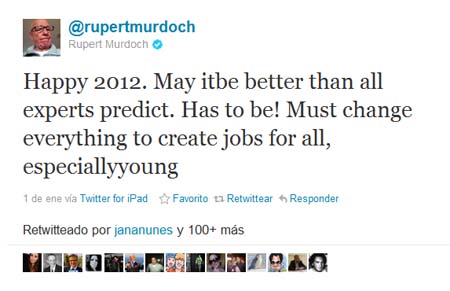 Recordemos que el empresario de comunicaciones Murdoch, que aún no ha dado su respaldo a ninguno de los aspirantes republicanos a la presidencia de Estados Unidos, se vio obligado a cerrar 'News of the World' y a comparecer ante el Parlamento británico en julio del 2011 por un escándalo de escuchas telefónicas ilegales, que realizó en perjuicio de personalidades del mundo del espectáculo y de la política.
En la web:
20 Minutos