NOTICIAS
El mundo de «Tweeria», juego de roles basado en Twitter
Actualizado el 27 de noviembre del 2019
Si eres fanático de los juegos en línea y eres usuario de la red de microblogs Twitter, esta nota va para ti. Te presentamos el primer juego basado en la red de información en tiempo real, denominado World of Tweeria o el mundo de «Tweeria». Es decir, toda acción que se realice en esta plataforma social ocasionará interacción en el universo del juego.
Por ejemplo, si en Twitter se hace una publicación entonces ésta tiene un efecto en Tweeria pues puede ser algo de vida o muerte en ese mundo ficticio. Es decir, mientras más tweets, retweets y seguidores tengas entonces tendrás más alianzas para explorar mazmorras o batallas y tu personaje contará con más fuerza. Y es que en el mundo de Tweeria cada retweet puede ser una espada, un hacha o una bola de fuego.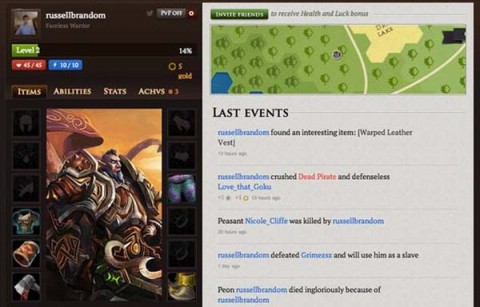 Como cada cuenta social se convierte en un personaje en World of Tweeria, todos participan e inclusive la gente famosa que se encuentra registrada en Twitter, lo cual hace que casos particulares ocurran, como es el hecho de que el propio Papa te gane en un combate.
Puede ser que ya estés participando en World of Tweeria y aún no lo sepas. Si eres de las personas que le interesan los juegos en Internet, qué esperas para probarlo. Para hacerlo ingresa a tweeria.com.
Fuente: The Verge