NOTICIAS
Tweets ampliados en Twitter con vistas previas de enlaces, videos e imágenes
Actualizado el 27 de noviembre del 2019
Los tweets contendrán más contenidos interactivos. Twitter ha mejorado sus "tweets ampliados" para permitir que los usuarios al expandir los tweets que contienen enlaces a sitios web asociados, ahora puedan ver vistas previas de contenidos, imágenes, videos, sonidos y más.
Hasta ahora los tweets solo mostraban vistas previas de los vídeos de YouTube para reproducir y fotos de Instagram. Con la mejora anunciada, un grupo diverso y creciente de nuevos socios como The Wall Street Journal , Breaking News , y TIME también ofrecerán contenidos ampliados al interior de los tweets que contienen un enlace a estos sitios web.
Por ejemplo, si un usuario decide expandir un tweet con el enlace a artículo de noticias The New York Times , The San Francisco Chronicle , o Der Spiegel Online, podrán ver una vista previa con el titular, la introducción y, a veces hasta las cuentas de Twitter de el editor y redactor de la nota. Así puede elegir seguir leyendo, seguir esas cuentas, responder, añadir a favoritos o retweetear.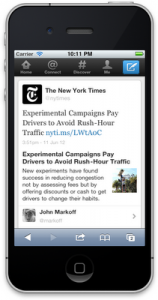 Los socios que permitirán ver imágenes directamente desde Twitter son WWE, BuzzFeed, y TMZ, y reproducir videos desde BET 106 & Park, Lifetime y Dailymotion.
Los nuevos tweets ampliados se podrán apreciar desde la navegación por computadoras de escritorio en twitter.com y navegadores móviles en mobile.twitter.com. Pronto se agragará esta característica a las aplicaciones para iPhone y Android.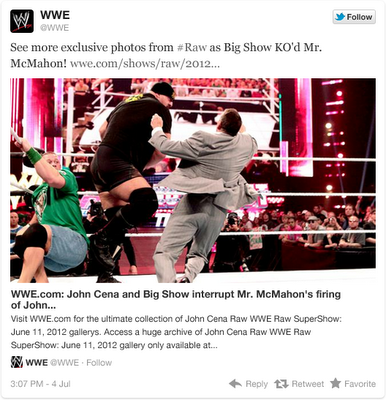 Referencias:
Blog de Twitter