TWITTER
Conversationlist – lista de los que te contestan en Twitter
Creado el 10 de noviembre del 2009
ConversationList es una aplicación online que te permite seguir en una lista a las personas con las que mantienes conversación.
El servicio crea la lista automaticamente cuando accedes al servicio mediante OAuth. Esta lista se actualiza diariamente, de modo que la lista contiene a los contactos con los que mantienes conversación en Twitter.
Si tienes alguna mención de alguien o respondes a alguien, este usuario se añade a la lista. Al momento de dejar de conversar con alguien, el contacto queda fuera de la lista.
Modo de uso:
1. Ingresa a http://conversationlist.com/ y haces click donde dice «Click here to let the conversationlist access your Twitter account.»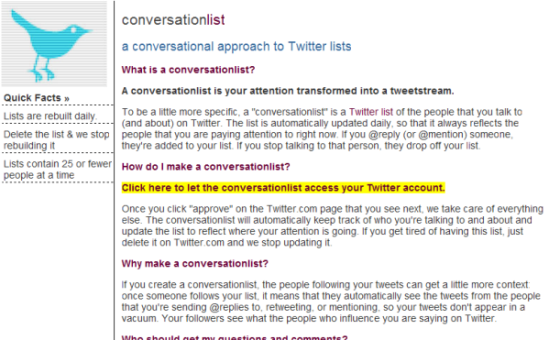 2. Tienes que estar conectado a tu cuenta en Twitter para estar permitir la autentificación en Twitter.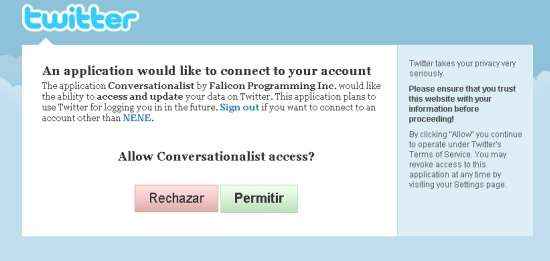 3. La lista inmediatamente se crea y se actualizará cada día