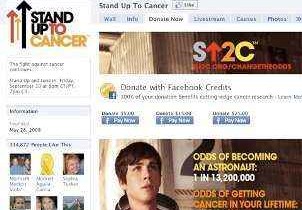 NOTICIAS
Hacer una donación con Créditos de Facebook para combatir el Cáncer
Actualizado el 27 de noviembre del 2019
La teletón "unidos contra el cáncer" recibirá donaciones de los usuarios de Facebook, quienes donarán con la moneda virtual de la red social conocidos como Facebook Credit. La donación será destinada en un 100% a la causa.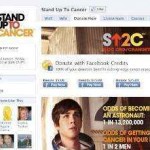 Los usuarios de Facebook pueden realizar su donación con la moneda virtual conocida como Facebook créditos. La página de Sing Up To Cancer en Facebook te pide realizar las donaciones de $ 5, $ 15 o $ 25 con una opción de pago a través de tarjeta de crédito o créditos Facebook.
Si deseas realizar tus donaciones con créditos de Facebook ir a la página Sing Up To Cancer en Facebook.
Esta noche, decenas de celebridades participarán en la Teletón que será transmitido en vivo a través de las principales redes para recaudar fondos para la investigación del cáncer.