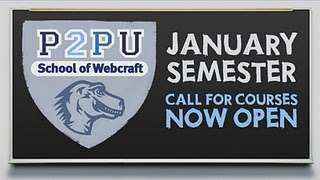 NOTICIAS
Mozilla ofrece cursos online gratuitos de diseño y programación web
Actualizado el 27 de noviembre del 2019
Mozilla Webcraft es un proyecto educativo de aprendizaje colaborativo de la Fundación Mozilla. Todos los años abren la School of Webcraft, su escuela de aprendizaje a distancia mediante el sistema P2P (persona a persona). Este año ya han iniciado la convocatoria a las persona que quieran inscribirse en sus cursos gratuitos de diseño y programación web, que incluye HTML5, JavaScript y CSS.

El semestre del School of Webcraft, empezará en enero y será ofrecido de forma gratuita en asociación con Peer 2 Peer University. Los cursos tendrán una duración de entre 6 y 10 semanas.
Las sesiones se realizan a distancia en grupos de estudio online con exámenes periódicos. El material que se usa es también gratuito. Los alumnos pueden ser a la vez profesores, es decir dentro de la comunidad colaborativa de Mozilla ellos pueden ofrecer sus propios cursos y realizar sugerencias para futuros cursos.
Las inscripciones inician el 8 de enero y la clases el 26 del mismo mes. En el último semestre, the School of Webcraft tuvo 15 clases, este año se espera tener 30 grupos.
En el sistema P2P toda la comunidad educativa es voluntaria, y tanto alumnos como profesores colaboran en mejorar los planes de estudio y las técnicas de clase.
Enlace: School of Webcraft