NOTICIAS
Naruto en Nintendo Wii
Actualizado el 27 de noviembre del 2019

No es de extrañar que la popular serie animada de televisión Naruto basado en el manga japonés haya generado muchos éxitos en DVD, figuras de acción, vídeos, juegos de cartas, libros y ropa.
Ahora los propietarios de Nintendo Wii han lanzado un juego basado en Naruto: Clash of Ninja Revolution, un divertido y frenético juego.
Originalmente publicado para el Nintendo GameCube en Japón hace un año Naruto: Clash of Ninja Revolution le permite jugar contra más de 20 personajes incluidos Naruto, Sasuke, Sakura, Tenten y Temari. Como la mayoría de juegos de combates todos los personajes tienen poderes especiales.
Aunque al principio es un poco confuso se puede controlar el juego usando el Wii Classic Controller o el controlador original de GameCube. El juego no aprovechar plenamente la tecnología de movimiento de la Wii pero el Control Remoto Wii y la Nunchuk sigue siendo la mejor opción.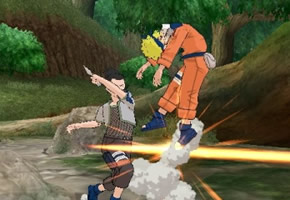 {Más información: IGN}