INTERNET
Cómo usar el botón «Save to Foursquare»
Actualizado el 26 de mayo del 2017
Si eres de los que constantemente navegan en Internet a través de sus móviles por reseñas de locales y te gustaría poder guardar sus direcciones para visitarlos más adelante, Foursquare ya tiene una solución. La plataforma social de localización móvil ha lanzado su botón "Save to Foursquare".
Ya hay una lista de sitios que ha instalado el botón de Foursquare en sus páginas web, que se muestran tal como los populares botones de Twitter y Facebook para compartir. Si deseas puedes agregar el botón a tu página.
Solo tendrás que buscar el botón "Save to Foursquare" cuando navegues por una página web, pero si se encuentran con sitios como Google Mapas y otros que no aún no lo incluyen, puedes guardar el botón en su barra de marcadores o favoritos. Si usas Google Chrome solo habrá que instalar una extensión y podrás guardar casi todos los sitios que deseen.
Pasos para usar "Save to Foursquare"
Si está usando Firefox o Internet Explorer, solo tendrás que arrastrar el botón a la barra de marcadores o favoritos. Asegúrate que de que la barra esté visible. Si no es así, sigue esta ruta: Ver> Barras de herramientas>Favoritos/Marcadores. Fíjate en el video.
Si usas Chrome, tendrás que instalar la extensión de Foursquare.
Con el marcador instalado, todo lo que tienes que hacer para guardar un lugar a una lista de Foursquare es hacer clic en él botón en tu barra de marcadores.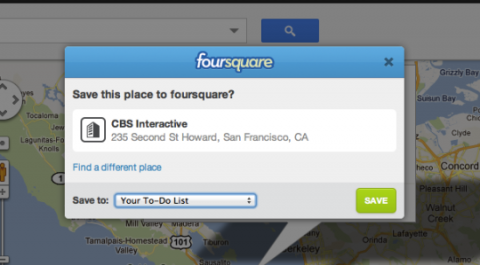 Un cuadro de diálogo pop-up se mostrará para que confirmes y escojas la lista a la que te gustaría añadir.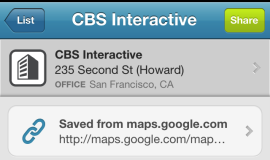 Listo, ahora podrás encontrar el lugar que acabas de agregar en tu lista respectiva. ¿Ya probaste el nuevo botón de Foursquare?