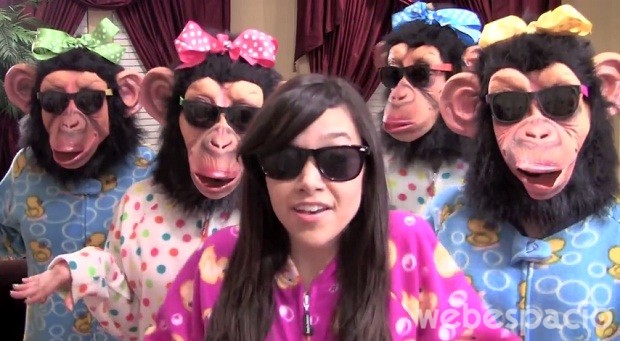 Es cierto que siempre estamos a la expectativa de que nuestros cantantes preferidos suban sus videos musicales a YouTube y eso hace posible que las visualizaciones superen el millón de visitas… pero te imaginas que los covers de esas canciones también las superen? Sí, eso es posible! En Webespacio hemos hecho una recopilación de videos tipo covers (vides de imitación y caracterización) de los cantantes que están pegando mucho en la industria musical.
Seguramente te sorprenderás al escuchar su voz o al ver la imitación de la escenografía en el videoclip, no por nada superaron el millón de visitas en esta plataforma de videos. Mira cada uno de ellos y coméntanos qué fue lo que te sorprendió!
1. Bruno Mars / Lazy Song  – Megan Nicole
2. Ariana Grande /Love Me Harder – Andie Case
3. Ed Sheeran/Thinking Out Loud – Dermot Kennedy
4. Ellie Goulding/Love Me Like You Do – Nicole Cross
5. Nick Jonas/ Jealous – Leroy Sanchez
6. Adele/Set Fire To The Rain – Arlene Zelina
7. Rihanna/Diamonds – Madilyn Bailey
8. Miley Cyrus/ We Can't Stop – Matty Braps
9. Katy Perry/Roar – Boyce Avenue Ft. Bea Miller
10. One Republic/ Counting Stars – Kurt Schneider, and Chrissy
11. John Legend/All of Me – Boyce Avenue
12. Taylor Swift/Shake It Off – MattyBRaps ft Skylar Stecker & Jordyn
13. Beyoncé/Crazy In Love – Sofia Karlberg
14. Zedd ft. Selena Gomez /I Want You To Know – MAX & Alyson
15. Avril Lavigne/Complicated – Vazquez Sounds
Si deseas leer más artículos parecidos a 15 Covers de cantantes famosos que superaron el millón de visitas en YouTube! El # 13 es increíble!, te recomendamos que visites nuestra categoría de YouTube.