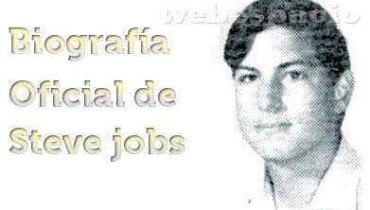 TECNOLOGíA
Biografía Oficial de Steve Jobs para inicios de 2012
Actualizado el 28 de diciembre del 2014
El CEO de Apple, se animó a dar su aprobación para que escriban un libro sobre su vida. iSteve: The Book of Jobsse titulará el libro, que está siendo escrito por el reconocido biógrafo Walter Isaacson, quien fuera director ejecutivo de CNN y editor jefe de Time.
Isaacson ha escrito también otras biografías que se han convertido rápidamente en bestsellers, como la de Benjamin Franklin y Albert Einstein. Ahora él también es el primero en acceder a Jobs y su familia. Aunque ya detalles de su vida se han revelado en otras biografías no autorizadas, no ofrecían un panorama general y el testimonio de la fuente más directa como esta biografía oficial de Steve Jobs.

Simon & Schuster se encargarán de publicar y distribuir el libro. La idea según el comunicado que han publicado es contar "una historia única del genio revolucionario «. Revelar la historia del éxito del CEO de Apple.
Steve Jobs ha estado en las noticias últimamente por sus problemas de salud que lo llevaron a anunciar su alejamiento y en marzo se presentó en una conferencia de prensa para presentar el IPAD 2. La Biografía Oficial de Steve Jobs nos ayudará a entender todos los rumores que se han venido tejiendo a través de los tiempos sobre esta leyenda de la informática.